What difference did receiving a scholarship from Reach for the Stars make in your life? What do you think you would do now, if you had not received the scholarship?
I asked this question to some of our students, here is Poovizhi's answer, she studies Computer Science Engineering at Mailam Engineering college, she teaches English to some of our students and is the student representative for Edayanchavadi – a smart young woman, brave and very reliable.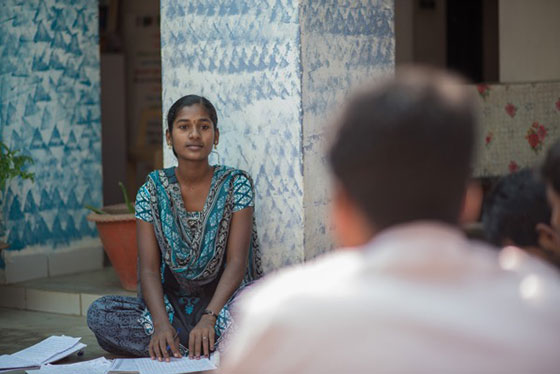 Poovizhi: "If I had not received a scholarship from Reach for the Stars, I would have gone for work in a boutique or somewhere else in Auroville. My family asked me to discontinue my studies already when I was in 10th standard.
My father asked me to go for work in order to save money for my marriage and my dowry.  I cried a lot. Seeing this my mom tried to convince my dad to send me back to school. I didn't like to stay in my house, so I spoke with Sanjeev, the principal of Udavi school. I and my sister were able to stay in Udavi School hostel and finish high school. Khal, who was in that hostel, helped me with my school fees.
I studied French as my second language, so I don't know very well to write in Tamil but I can speak. So I asked my mother to let me join in a higher secondary school in Pondicherry where they teach French. But due to financial problems I joined Kuyillapalayam Higher Secondary School and they taught only Tamil, no French. I struggled a lot to pass the Tamil exams. Even for my higher secondary school fees I and my mother went to her working place and asked for help. The employer of my mother gave half of the amount and my mother payed the remaining.
Now for my college by gods grace I've received a scholarship from Reach for the Stars. Otherwise I couldn't have fulfilled my dream. I didn't expect that I would step into a college and study. But now I am studying CSE, as I had wished for and I am one of the top in my class. RFTS totally changed my life in a wonderful way. My education without RFTS would have been terminated. I really thank Stephanie and my sponsor Claudia & Alexander for it."
blog by Poovizhi, 19