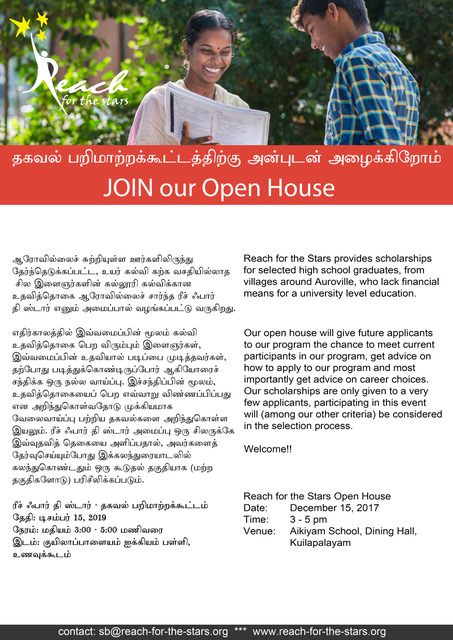 Every year in November or December we hold an open house for the high school students of 11th and 12th grade – our future applicants. The open house is held to give information about our organisation, our selection process and to inform students about the variety of courses available. We invite Highschool students from villages around, Kuilapalayam, Bommaiyarpalayam, Edyayanchavadi, Kottakarai, Kottakuppam. We put notices in the highschools of those villages. The team of Reach for the Stars felt that if applicants were helped along with their career choices a few months before they actually apply to colleges, it might pave the way to a more conscious and individual course choice.
Arul explains: I, a student of Reach for the Stars program and other fellow students of mine were helping in the open house program. We sat in groups representing a subject, all the engineering students sat in one place and medical students in one place and so on. So we could guide the applicants and help them select their subject and their college according to their interest. We also analyzed the students language skills and the connection between their future career and the subject they have opted for.
On that day we were ready by 5 pm and youth started coming and registering their names. One by one they went to the respective groups according to the subject they were interested in. The group would question the future applicant about his/her future plans and why they selected that career and so on in English to also check the language skills of the youth.
This went very well and we gave a lot of information about the colleges nearby and the courses offered by them. We were expecting many more students. We have planned to have another open house in December and hope we will have many more young people visit and benefit as the once that came this time.
by Arul, October 29, 2015